i++
Ich habe es leider bisher nicht geschafft alle Seite auf deutsch zu übersetzen. Trotzdem liegen natürlich
alle Programme auch in einer deutschen Version mit deutscher Anleitung
vor - einfach die "German Version" von der Seiten herunterladen.
V2.0 - the next generation of a Newton-classic
With i++ you can customize the menu shown when tapping an "i-Button". Menu items can be included to open applications or perform other "special actions". Those info buttons are present in most Newton OS2.x applications, since it is a standard component of the 2.x user interface. So "your" special purpose menu will be reachable in most situations without getting in your way when you do not need it.

In my opinion i++ is a "natural" extention of the Newton2.x user interface using only standard user interface elements.

The following image shows how a customized i-menu might look like. Note that it is the menu belonging to the "Connection" dialog. Of course the additional items will also show up when tapping "i" in Notes, Names, In/Out, Dates, ...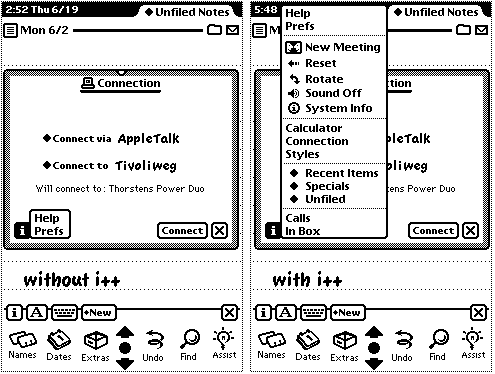 Additional features for the MP2x00 button bar
i++ optionally adds two different buttons to the MP2x00 button bar
A small i-button that gives you access to the i++ menu independed from the current application.
A T(ask)-button that lets you quickly switch between all running applications. You can even bring the backdrop to the front!
There are also small packages included that can be draged to the button bar to have one-tap access to frequently needed functions. The included buttons are:

Rotate
Light
Record
Sleep
Keybd.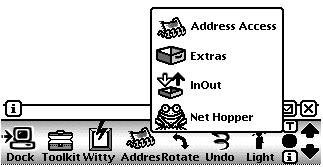 i++ features
Non-disturbing, user-interface compliant solution.
Include menu items to open frequently used applications without using "Extras".
Additionally special actions can be included in the i-menu:

Submenus

Recent Items lets you access the recently (with i++) used programs
Specials opens a submenu with all special actions available in i++
For each folder in Extras (apart from "Extensions") there is a possible menu item to open a list of all packages included in that folder.

Default Store directly switches the default store (as in the "Card" slip)
System Info performs a garbage collection and tells you about the state of the batteries, memory (heap, internal, card), ROM version, date and time. Perfors a garbage collection, too.
Rotate changes the screen orientation. With OS2.1 you can specify the two orientations to use.
Rotate 180° turns the screen upside down (OS2.1 only)
Backlight Control switches the backlight on and off.
Sound on/off
Record starts a new sound recording. After closing the dialog the recorded sound will be added to the notepad (OS2.1 only)
Keyboard opens the typewriter keyboard (there is a special action for each built-in keyboard)
Align Pen Opens the standard pen alignment dialog
Sleep turns your Newton off (like using the power switch)
Reset reboots your Newton (like pressing "Reset" in the battery compartment). Newton will ask you, if you really want to reset.
New Meeting opens "Dates" with the new meeting slip open.

Switch between already running applications.
Recently opened packages (using i++) can be included at the top of the i-menu
Extendable: Third party applications can add "special actions" to i++. I.e. AddressAccess adds three new (optional) items: "New person card", "New company card", "Open built-in names".
With i++ you can enable the hidden "freezing" feature of the Extras drawer to save heap space when using a lot of packages.
Frozen packages are activated on the fly and refrozen after they are closed.
To find out what changed with the past updates
read the i++ versions history.

Price and Registration
i++ is shareware and cost US$15. The unregistered version has all features of the registered one but the more you use it the more you will get "registration reminders". There is no expiration date.
There are also two
bundles
available:
If you already registered one of these packages and register another one later you will receive the third code for free (saving US$15) automatically.
Registration
can be done by sending cash, using CompuServe SWREG (ID 9401 or ID 16321 for the bundle) or Kagi (credit card, US checks,...).
Download
The files are compressed and binhexed using StuffIt from
Aladdin Systems
. So you need their (free) StuffIt Expander which is available for Mac and Windows.
If you use a Windows-PC please make sure that you have set the cross platform preference to NEVER.

Download English version (V2.00e)

Download German version (V2.00d)


Bei Fragen können Sie mich hier kontaktieren.