Wunschzettel
Ich habe es leider bisher nicht geschafft alle Seite auf deutsch zu übersetzen. Trotzdem liegen natürlich
alle Programme auch in einer deutschen Version mit deutscher Anleitung
vor - einfach die "German Version" von der Seiten herunterladen.
Wunschzettel is the German word for"list of wishes". Consequently it is a (check-)list manager. I know, there are more list managers "out there". But this one has a special feature: Each item can be "remembered" by "Wunschzettel". So after entering its name once you can reuse the item over and over again just on two "taps".

A typical example is a shopping list. Instead of writing items like "bread", "tooth-paste", ... once a week or so you can select these items from dynamically growing popup lists. After a short time you have all those things in your popup that you might want to buy. This is also quite usefull to check out if you have forgotten anything to put on your list.

Please note: Despite name and screenshot are German there is an English version available, too.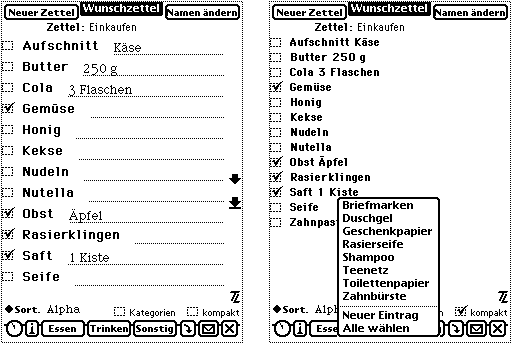 Wunschzettel features
On each list, items can be assigned to one (of three) differently named categories.
Each item is in one of three states: selected&unchecked, selected&checked, not selected.
Each selected item can have an additional, temporary small note.
Sort selected items by four different criteria: alpha, checked+alpha, categories+alpha, checked+categories+alpha.
Display lists in two different modes: standard or compact.
You can specify the font for display and printout (in printout also the font-size can be selected)
Wunschzettel supports multiple lists (each one has its own pop-up lists).

Price and Registration
Wunschzettel is shareware and cost US$10. The unregistered version has all features of the registered one but the more you use it the more you will get "registration reminders". There is no expiration date.
Registration
can be done by sending cash, using CompuServe SWREG (ID 9402) or Kagi (credit card, US checks,...).
Download
The files are compressed and binhexed using StuffIt from
Aladdin Systems
. So you need their (free) StuffIt Expander which is available for Mac and Windows. If you use a Windows-PC please check that you have set the cross platform preference to NEVER.

Download English version (V1.25e)

Download German versio (V1.25d)


Bei Fragen können Sie mich hier kontaktieren.