Ich habe es leider bisher nicht geschafft alle Seite auf deutsch zu übersetzen. Trotzdem liegen natürlich
alle Programme auch in einer deutschen Version mit deutscher Anleitung
vor - einfach die "German Version" von der Seiten herunterladen.
AddressAccess V1.62 is the latest version of AddressAccess to support Newton OS1.x. If you already use Newton OS2.x then using AddressAccess V2 is strongly recommended.

AddressAccess V1.62 has the same basic concept as AddressAccess V2. Even with Newton OS1.x AddressAccess really enables efficient working with the Names file. And the best thing is that you are well prepared for upgrading to Newton OS2 since
it brings lots of fields introduced in the NOS 2.0 names file to Newton OS1.x (i.e. multiple email addresses, custom fields, ... all stored in a NOS2 compatible way)
registration of AddressAccess V1.62 is valid for AddressAccess 2.0, too.
Since V1.50 AddressAccess also features a
Comfortable editor.
So you can now easily change/add multiple fields of one card.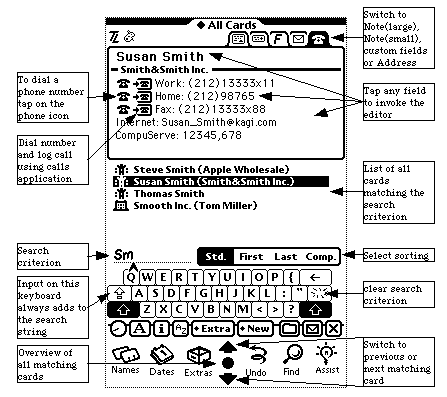 AddressAccess features
Sort your cards by first name, last name or company (or as marked on the cards).
Comfortable editor for easily changing or adding cards with optional non-floating keyboard.
Quick searching: only enter the first few characters of name you are looking for.
Supports NOS1.x starting with NOS1.11.
Free update to AddressAccess 2.0 when using NOS2.0
Use a lot of 2.0-names-fields (multiple addresses, custom fields) even with 1.x systems (stored NOS2.0 compatible )
Address is formatted according to the country.
Designed to minimize the number of taps needed:

Direct dialling of phone numbers without any further dialogs (after a configurable or no delay).
Direct beaming of cards.
Direct beaming of your card (NOS1.x: define it once).
Open the editor with one tap and switch modes by only one more.
Switch sorting order by a single tap.

And a lot of user-configurable options:

Redefine names button to open AddressAccess.
Select one of five different on-screen keyboards.
Customize the height of the special card view.

Together with "TapNew" V1.20 or higher you can create a new card directly from the notepad using the "New" button of "TapNew".

Price and Registration
AddressAccess is shareware and cost US$25. The unregistered version has all features of the registered one but the more you use it the more you will get "registration reminders". There is no expiration date.
Registration
can be done by sending cash, using CompuServe SWREG (ID 9876) or Kagi (credit card, US checks,...).
Download
The files are compressed and binhexed using StuffIt from
Aladdin Systems
. So you need their (free) StuffIt Expander which is available for Mac and Windows.
If you use a Windows-PC please check that you have set the cross platform preference to NEVER.

Remember: If you have Newton OS2.x then you need to install AddressAccess 2.0 or better.

Download English version V1.62e

Download German version V1.62d


Bei Fragen können Sie mich hier kontaktieren.