About NSLU2
with Unslung Firmware
The NSLU2 is a NAS device which is an abbreviation for a Network Attached Storage. It is designed to work as a file server in your local network enabling any PC in your LAN to access the files on the external harddrive(s) attached via USB 2.0 to the NSLU2.
For this task it is quite a low cost solution although the external USB hard drive is a little more expensive than having a build-in harddrive like other NAS devices offer. But having only external harddrives makes the NSLU2 easy to set up (no disassembly needed to insert the harddisk) and for me the main advantage is that it is a completely fan-less and therefore an extremely silent solution (all you might hear is the HD itself).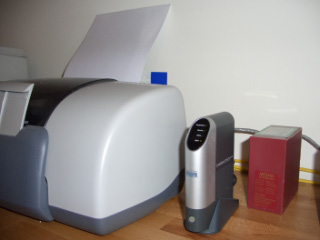 The other advantage of the NSLU2 not advertised by Linksys is that it is basically a small Linux based computer. And since they used Linux they had to release the sources of their firmware allowing others to modify the firmware. This made the Unslung project possible which provides a firmware based upon the one provided by Linksys but which opens the NSLU to be accessed almost just like any other Linux computer and allows for installing various types of software.
Flashing the NSLU2 with the Unslung firmware is quite easy if you follow the instructions by the letter. For people with only very limited computer experience (or no Linux knowledge at all) is might be a little hard to get used to the very limited, character-based text editing/command features available. Otherwise it's pretty straightforward and once Unslung is installed adding programs like mt-daapd as a music server is easy: It features an installer ('ipkg') which allows for downloading and installing software with just a single command (of course only for software that is designed for the NSLU2).
Installing lots of software isn't recommended since the NSLU2 isn't as powerful as your desktop computer (more like an out-dated PocketPC) and has limited RAM. But for serving MP3s it proved to be absolutely sufficient.
For the NSLU2 there are two media servers available. I never tried Twonky on the NSLU2 because mt-daapd seemed to be better interoperating with the SoundBridge and I did not need the additional features like serving images, too (see media servers for more details about both of them). So to get started with your NSLU2 as a media server all you need to do is:
Setup your NSLU2 with attached harddrive as described in the NSLU's manual
Install the Unslung firmware (5.5) as described here. I'd recommend visiting the new user's guide, too.
Remember to follow the steps exactly as described in the provided documentation.
Now you are set up. Just add your music to mt-daapd and start listening from your SoundBridge
Contact me