Articles

VisualMR

Contact

Deutsch
Visual Media Remote:
A SoundBridge Remote Control
"Visual Media Remote" (or in short "VisualMR") is designed to be an easy to setup and use remote control for your Pinnacle or Roku SoundBridges.
VisualMR fits perfectly on a PocketPC and offers an optional larger layout for Windows PCs. The menus are designed to be familiar for SoundBridge users but easier to use thanks to the larger screen.
Highlights of VisualMR V2
Optimized for the SoundBridge only (Roku as well as Pinnacle)
Works with any kind of media server (as far as supported by SoundBridge)
Ful support for browing RadioRoku (internet radio)
Easy to setup and use (Vista compatible)
Read lyrics for currently playing song (using lyricswiki.org)
CoverArt display with optional retrival from iTunes(R)
Fast browing thanks to VisualMRs own caching of music libraries
Supports multiple SoundBridges
Same, familiar user interface on WindowsMobile and Windows PCs similar to the SoundBridge menus
Customizable using 'skins' (which even support hi-resolution graphics on VGA PocketPCs)
At a glance display of meta data about the current title or radio station (if available)
Select songs for playback by album, artist, composer, genre, UPnP folders, playlist or SoundBridge-Presets
Using persistent cache: combined view of artists with their albums
Search songs, albums, artists or composers by (parts of) their name
Build / rearrange the 'Song Queue'.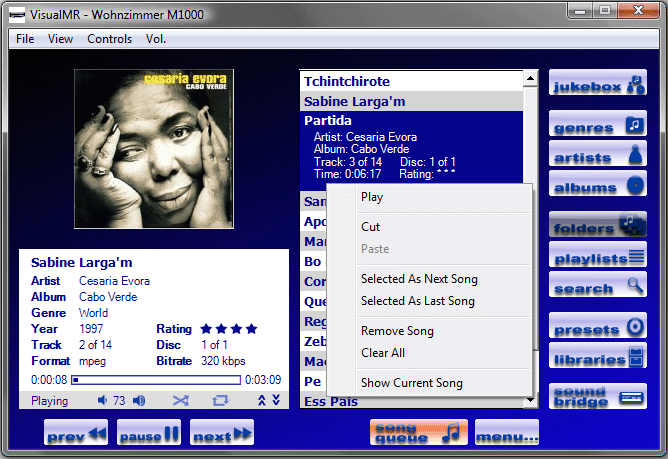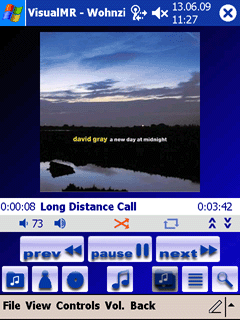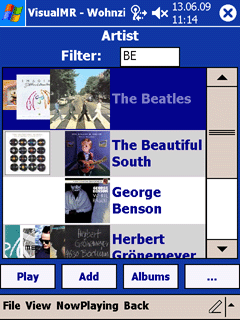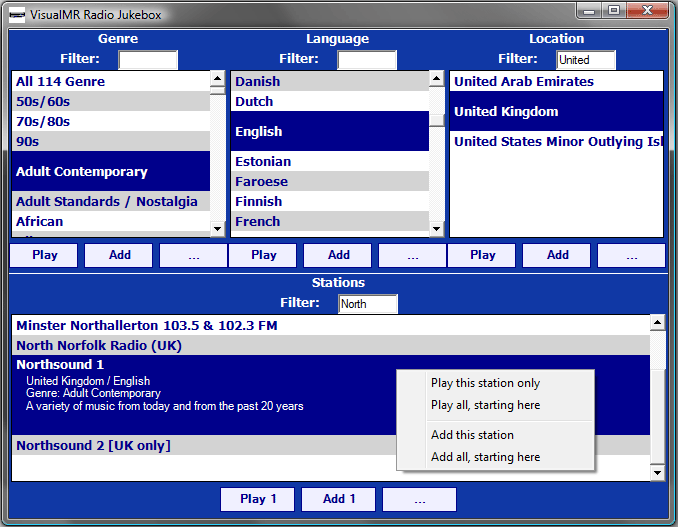 06/12/2009: V2.0.0 - Changes since V1.6
Internet-Radio (RadioRoku) support:

browse by genre, language, location, favorites or top-stations
Now playing with optimized radio-layout
Jukebox window now supporting internet radio: browse by genre, language and/or location

CoverArt from iTunes(R): Get coverart from iTunes(R) to be used in VisualMR
Lyrics: Show current song's lyrics using lyricswiki.org
Browse lists now support filtering by contained text (on WindowsMobile with custom designed onscreen-keyboard)
Designed for .Net V2 with V3.x cmpatibility ensuring that on Vista and WindowsMobile 6.x you don't need to worry about installing .Net since it is already preinstalled.
Very quick browsing by Genre/Album/Artist using VisualMR's new persistent cache which also enables advanced browsing
Browse albums showing album cover (offline cover only)
Browse artists includes covers of all artist's albums: scroll though covers and dierectly select one for playback (requieres persistent cache and offline cover)
Play by rating: Play only songs from an artist/album/... with a given minimum rating.
Windows-Mobile Sync: Manage coverart (for example from iTunes) and persistent cache on your PC and then copy them over to your WindowsMobile device yousing VisualMR (on PC) and ActiveSync/Device Center.
Windows-Mobile: support for new wide-screen resolutions (800x480, 400x240) - not yet complete but already usable
Create desktop or Start menu shortcuts to your SoundBrigde to launch VisualMR connecting to the predefined SoundBridge (see menu in "Browse SoundBridge" screen)
For more changes in V2.0.0 as well as previous changes please see the versions history.
Known limitations
Manipulating the song queue when shuffle is turned on has surprising results (Roku firmware limitation).
The currently playing song is not always correctly highlighted in 'Browse Song Queue' (Roku firmware limitation).
Non-searchable UPnP Servers (like 'Rhapsody'): The SoundBridge (and therefore VisualMR) does not support browsing by Album/Artist/Genre... Please use 'Browse Folders' only
Due to the different design there is only very limited support for SlimServer
Automatic discovery of SoundBridges crashes in some network setups. This is mostly due to an incompatible UPnP router. In this case just add your SoundBridges manuelly by their IP address.
Documentation / Download
If you like to learn more about VisualMR, you can read an overview about its features here.
If you like to skip this overview and read more about downloading and installing VisualMR, please choose your platform:
Contact me