VisualMR V2 (Beta)
for Windows PCs
VisualMR turns your Windows PC into a handy remote control for your Roku SoundBridge.
On this page you'll find the current Version V2 which is still in Beta since there hadn't been much testing, some minor problems are knwon and some feature are missing that I would like to have in a final version. In my opinion is V2 even as beta far supperior to the older V1.6, which can still be found here.
Additional features compared to PocketPC version
An addtional feature available only on the PC is the Jukebox window, which enables browing by genre, artist and album in a single place.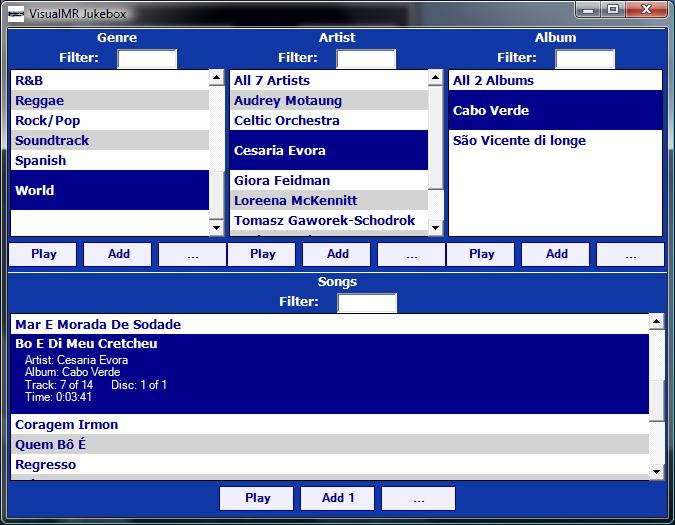 On a PC the 'Browse' forms optionally open in a second window next in addition to the 'Now Playing' main window. Another difference is that you can select from 4 window sizes. Using the 'File/Window Size' menu you can switch between 4 different sizes:
Portrait: as on a PocketPC in portrait orientation
Landscape: as on a PocketPC in landscape orientation
Square: as on a square-screen PocketPC
PC: the window size is controlled by the skin and the song queue will open within the NowPlaying screen (and not as a seperate view)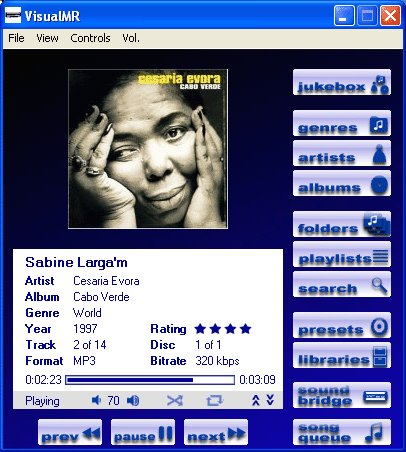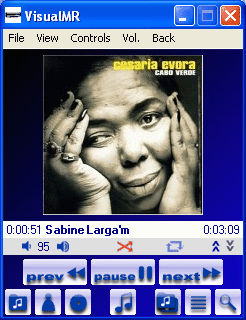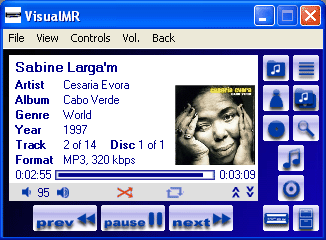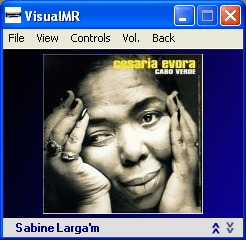 Installation Requirements
Your PC must be able to connect to your SoundBridge using port 555
Your SoundBridge must run firmware version V3.0
Microsoft's .NET V2.x or V3.x Framework must be installed (See F.A.Q. for details).
On Vista and on most XP systems this is already installed. So just try installing VisualMR and if .Net should be missing the installer will tell you so.
If needed you can download .Net V3.5SP1 from Microsoft here.
Download
> Click to Download VisualMR V2.0.0 for Windows PCs <
Only if needed (see above): > Click to Download .Net V3.5SP1 from Microsoft <
If you like VisualMR please consider donating to support its development.
Installation
Please read the enclosed ReadMe carefully, especially that the software is provided 'AS IS' without warranty of any kind and that you use it on your own risk :-)
Just decompress the contents of the downloaded zip-file and execute 'Setup.exe'. This will copy VisualMR.exe together with its default Skin 'BlueGlass' onto your hard disk and create a 'VisualMR' entry in your StartMenu. Apart from using Microsoft's Windows Installer the installer will not modify your system.
You can uninstall VisualMR using Settings/Software/Remove.
Contact me