Applications

AddressAccess

I++

WittyKeys

Backyard

FreeBack

Wunschzettel

Xchange

Feiertage
Other

Home

Registration

F.A.Q.

Contact

Deutsch

AddressAccess Pro is an enhanced version of AA Classic. So expect to find all features available in AA Classic in AA Pro as well plus some additional features for Newton power-users. If you want to know more about the reasons for providing two versions of AddressAccess please read here.

At this page I´ll only describe the additional features of AA Pro. The basic features are described at the AA Classic page.

Additional features only available in AddressAccess Pro
Support for bidirectional links between contacts which are used in a relational way:

Now you can create relations between contacts (family-members, company employees, ...) within AddressAccess Pro.
AA supports using links in a very special way: In addition to the basic jumping from one contact to another AA allows viewing links as relations: You can open one (or multiple) employees within the company card (difficult to explain but very nice to use, see picture below)
AA also supports viewing of links created with DateMan, MoreInfo and ActionNames in the same relational way as the links created with AA Pro.
Even standard fax or email groups are displayed as relations.

Extended searching/sorting: In addition to sorting by name or company you can now also search by other fields (like the custom fields or address).

Simply redefine the sort-buttons in AA by double-tapping them.

AA Pro comes with a new printout-format allowing a very nice and compact printout of the contacts in a kind of booklet.
Improved support for DateMan, MoreInfo and ActionNames: If one of these packages is installed, the "New" menu in AA Pro contains additional items to create linked meetings, todos, notes, ... from within AA using the dialogs of those packages.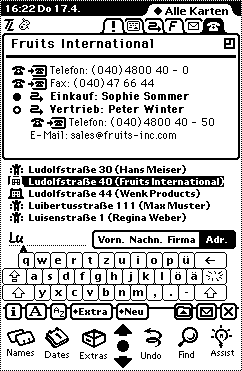 (screenshot of German version)


Price and Registration
AddressAccess Pro is shareware and cost
US$35
. An
Upgrade from AA Classic is available for US$10.
The unregistered version has all features (except that it can't be used as backdrop) of the registered one but the more you use it the more you will get "registration reminders". There is no expiration date.
Registration
can be done by sending cash or online using Kagi (credit card, US checks,...).
Download
The files are compressed and binhexed using StuffIt from
Aladdin Systems
. So you need their (free) StuffIt Expander which is available for Mac and Windows.
If you use a Windows-PC please check that you have set the cross platform preference to NEVER.

Remember: If you have Newton OS1.x then you need to install AddressAccess V1.62

Download English AA Pro

Download German AA Pro


In case of any questions feel free to contact me.